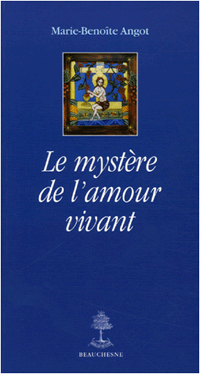 Published in French by : Éditions Beauchesne
E-mail : beauchesne2@wanadoo.fr
This book takes a beautiful spiritual and apostolic path leading the reader in a current of intense love of Christ, to the Living Person, His Body and His Blood, His Open Heart poured out on the world. To grow in His Eucharistic Presence, to discover the Infinite Tenderness of the Father, in a life of prayer of love for the Holy Trinity, to penetrate the feelings of Christ and to live better, everyone can draw strength from these pages impregnated with the love of the Eucharist. The Year of the Eucharist, during the pontificate of John Paul II and Benedict XVI is a pressing invitation to deepen our faith in this mystery.
Marie-Benoite Angot, married, mother, grandmother, graduate in Public Law provides us with this spiritual journal. Her notations are linked with the expectations of many hearts. They form the basis of the "Houses of Adoration" which are domestic churches in the home, instilling the Spirit of Christ in the world. Scattered across the different continents of the world and recognized canonically, the Houses of Adoration carry within them, at the start of the third millennium, the meaning of "mission".